Mobile • Develop • Design • Lead • Train • Troubleshoot
A long time resident of metro Detroit, Dr. Truxall has been slinging code for a living since 1995, working with enterprise web technologies, modeling business processes, and building public web sites and mobile apps for some of the largest companies in North America. Always an enthusiast for troubleshooting systems, Trux has rescued numerous troubled applications and improved their performance. Co-author of the book Android Best Practices, he speaks at local conferences and user groups. Currently Trux is working at Graphite Health, a non-profit organization digitally transforming health care data.
The Book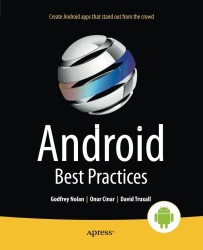 Public Speaking
From time to time I have given technical presentations about the technologies I use:
| | |
| --- | --- |
| Environment Configuration for JavaScript Apps | CodeMash – January 10th, 2020 |
| Everyday Animations in Android | GDG Ann Arbor – March 28th, 2019 |
| Psychology Behind Compelling Apps | Windsor-Essex DevFest – February 23rd, 2019 |
| Everyday Animations in Android | CodeMash – January 11th, 2019 |
| Everyday Animations in Android | Michigan Google DevFest – November 10th, 2018 |
| Psychology Behind Compelling Apps | Mobile Monday Ann Arbor – February 5th, 2018 |
| Psychology Behind Compelling Apps | CodeMash – January 12th, 2018 |
| Accessibility in Android | CodeMash – January 11th, 2018 |
| Intro to Android | LaDev – June 8th, 2017 |
| Android Authentication in the Web World | Detroit Google DevFest – April 22nd, 2017 |
| Build Apps Users Want to Use | LaDev – March 16th, 2017 |
| Build Apps Users Want to Use | Detroit Google Developer Group – Feb 16th, 2017 |
| Build Apps Users Want to Use | DetroitDevDay – Nov 12th, 2016 |
| Android Accessibility | Detroit Google Developer Group – Oct 26th, 2016 |
| Software In Motion: Continuous Delivery for Mobile | CodeMash – Jan 7th, 2016 |
| Software In Motion: Continuous Delivery for Mobile | Detroit DevDay – Nov 14th, 2015 |
| Android Authentication in the Web World | Detroit Java User Group – January 20th, 2015 |
| Mobile Authentication in the Web World | CodeMash 2015 – January 8th, 2015 |
| iOS for Android Developers (with Swift) | 1DevDay Detroit 2014 – November 15th, 2014 |
| Dependency Injection in Android | Mich. Google Developers DevFest 2014 – May 17th, 2014 |
| Consuming Web Services with Android | Google Developer Group Ann Arbor Android – Nov 21st, 2013 |
| Android Authentication in the Web World | MobiDevDay Detroit – May 4th, 2013 |
| Consuming Web Services with Android | Mich. Google Developers DevFest 2013 – March 23rd, 2013 |
| The Demise of Xcopy Deployment | Day of .Net – May 1st, 2010 |
| Beyond Breakpoints: Debugging and Troubleshooting | Day of .Net – October 18h, 2008 |
| Creating Office Documents with Open XML | Day of .Net – October 20th, 2007 |
| Windows Communication Foundation (WCF) | West Michigan .Net Users Group, July 17th, 2007 |
| Introduction to Windows Communication Foundation | Day of .Net – May 19th, 2007 |
| Windows Communication Foundation | Greater Lansing User Group.Net – March 15th, 2007 |
| Visual Studio 2005 – New Features | Microsoft Across America Technology Truck–July 28th, 2006 |
| What's New in ADO.NET 2.0 | Microsoft DevCare – January 20th, 2006 |
| Advanced VSTO 2005 Programming and Deployment | Microsoft DevCare – August 19, 2005 |
| SQL Server 2005 for Developers | Microsoft SQL Server Summit – June 15, 2005 |
A Long Time Ago
I did my graduate work at Penn State and hold a doctorate in Plant Pathology. My theses are listed at PSU, and a publication of some of my research is online as well.